Barrow Bags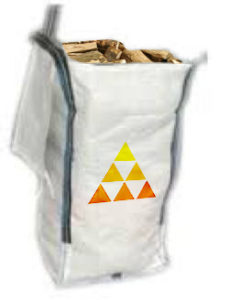 Barrow Bags of Firewood need less storage space than regular bulk bags of logs. These barrow bags measuring 45x45x90 cm . are delivered on a "Sack Barrow trolley" to allow transport through narrow entrances, up to the step or front door of a home, or round to a rear entrance, so long as the path is clear of obstacles.
They are left on the premises and have lids to protect the dry firewood from the elements. The bags are too heavy for one person to carry, so to go up steps requires two strong people.
Barrow bag quantities are good for outdoor gatden parties, firepits, chimnea and if you only use your wood stove occasionally, or if your log store is only accessible via a close or garden gate.
The online Shopping Cart gives 3 options
Secure Pay by Credit or Bank Card
Bank Transfer
Supply Card Details by Phone
"To Order by Email Click Here"
Log Deliveries Health & Safety - COVID19
Keep a safe social distance at delivery time or stay inside.
If the delivery is into a garage, leave the door open in advance.
Customers will be advised of the estimated delivery time.
Cash payments are suspended for now. Phone in with your card details.
Showing all 2 results